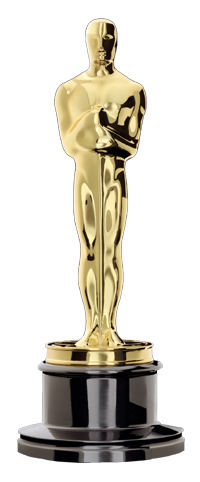 It's that time of year again.  The Super Bowl of movies is just around the corner and on Sunday, February 27, 2011, the Academy of Motion Picture Arts & Sciences will award some of 2010's best works in film.  So who did they narrow down their short lists to?
There were certainly a few snubs this year and the elephant in the room is in the Best Directing category. Overall, however, this looks to be one of the best overall years for nominated films as each one has found not only critical success but most of them have nabbed commercial success as well.  No doubt, that may have something to do with the fact that 2010 was an incredibly disappointing year for most new releases and audiences showed that by sending attendance down to record lows throughout the last twelve months.
The King's Speech leads this year's pack of Oscar hopefuls with 12 nominations, while the Coen Brothers' western remake True Grit rode its holiday box office success to 10.  The Social Network and Inception aren't far behind with 8 each, while The Fighter grabbed 7 nods.  The following is a breakdown of what we can expect from the major categories at the end of February:
Best Adapted Screenplay
127 Hours Danny Boyle & Simon Beaufoy
The Social Network Aaron Sorkin
Toy Story 3 Screenplay—Michael Arndt; Story—John Lasseter, Andrew Stanton, & Lee Unkrich
True Grit Joel Coen & Ethan Coen
Winter's Bone Debra Granik & Anne Rosellini
Analysis: We start with a category that is pretty much a sure thing at this point. Aaron Sorkin (of The West Wing and The American President fame) turned Ben Mezrich's book, "The Accidental Billionaires," into a script for The Social Network driven by fiercely engaging dialogue, incredible wit and very subtle humor.  Despite some great adaptations in the category this year from the Coen brothers' remake to Boyle & Beaufoy's incredible true-life tale of Aron Ralston, Sorkin is pretty much a shoe-in to take home the statue for what is arguably the best script of his career so far.
Best Original Screenplay
"Another Year" (Mike Leigh)
"The Fighter" (Screenplay—Scott Silver & Paul Tamasy & Eric Johnson; Story—Keith Dorrington & Paul Tamasy & Eric Johnson)
"Inception" (Christopher Nolan)
"The Kids Are All Right" (Lisa Cholodenko & Stuart Blumberg)
"The King's Speech" (David Seidler)
Analysis: This category should likely come down to two candidates. One of them, The King's Speech, is the clear front-runner for more than a few reasons. While it is based on a true story, the fact that it was not based on a pre-existing film or written work is the reason the Academy deems the film as an original. As the amount of buzz around the film continues to grow, the other noteworthy nomination here is Chris Nolan's Inception.  This marks Nolan's second nomination (previously for Memento's screenplay), and given the nature of its complex storytelling and memorable ending, it would be the spot for the Academy to finally award the filmmaker.  That said, it's an underdog, given the Academy's nature to avoid awarding many summer blockbusters.
Best Supporting Actress
Amy Adams in The Fighter
Helena Bonham Carter in The King's Speech
Melissa Leo in The Fighter
Hailee Steinfeld in True Grit
Jacki Weaver in Animal Kingdom
Analysis: The Fighter gets two nods here, which raises the possibility of some vote splitting, but so far, it's been Melissa Leo generating the most buzz so I'm still calling this one for her. Steinfeld's nomination could prove to be the upset, but the nomination alone is historical as she's one of the youngest Oscar nominees in history—for her first feature film, no less.
Best Supporting Actor
Christian Bale in The Fighter
John Hawkes in Winter's Bone
Jeremy Renner in The Town
Mark Ruffalo in The Kids Are All Right
Geoffrey Rush in The King's Speech
Analysis: You can take this one to the bank: Christian Bale is finally taking home an Oscar. The category is filled with potential winners in almost any normal year (particularly Geoffrey Rush), but Bale's performance in The Fighter has been getting raves from critics and audiences alike, and even with his strong resume, it is arguably the best performance of his career so far.
Best Actress
Annette Benning in The Kids Are All Right
Nicole Kidman in Rabbit Hole
Jennifer Lawrence in Winter's Bone
Natalie Portman in Black Swan
Michelle Williams in Blue Valentine
Analysis: If there's any category that's more of a sure thing than Supporting Actor, it's definitely this one. Natalie Portman's bravura psychological performance has escalated her to the A-list and the center of Hollywood buzz (thanks also to her recently announced engagement and pregnancy), making her a shoe-in for her first Academy Award.
Best Actor
Javier Bardem in Biutiful
Jeff Bridges in True Grit
Jesse Eisenberg in The Social Network
Colin Firth in The King's Speech
James Franco in 127 Hours
Analysis: Colin Firth has been lauded with praiseworthy reviews for his sympathetic and heartwarming performance as King George VI. It's hard to imagine his performance not currying favor with Academy voters (who have a long history of awarding period film performances).  Eisenberg and Franco have also gotten a lot of deserved attention, but being younger stars, it will be more likely that the Oscar goes to the well-liked veteran Firth.
Best Directing
Black Swan Darren Aronofsky
The Fighter David O. Russell
The King's Speech Tom Hooper
The Social Network David Fincher
True Grit Joel Coen & Ethan Coen
Analysis: Yes, the Academy snubbed Christopher Nolan here yet again, despite being considered a virtual lock for nomination by most in the industry. Despite being nominated by his peers at the DGA (Director's Guild Awards) for Inception, the Academy voters elected to not recognize Nolan for his achievements. This marks the third time he's been snubbed here, previously for Memento and The Dark Knight.  The DGA, however, nominated him for those two films as well.  It's probably mostly due to Inception's genre-bending premise, but the lack of recognition for him here will very likely be something that history looks back on as one of the most egregious snubs in years.
That said, the category is chock full of today's most talented "oh, THAT guy!" directors and is one of the most interesting to analyze. The votes should ultimately boil down to David Fincher (currently the front-runner) and Tom Hooper. For the past few months, Fincher has been considered a safe bet, but with The King's Speech gaining incredible amounts of momentum during awards season and now post-nominations, this category could end up a lot closer than anyone thought come February 27.  As of today, I'm calling for Fincher to pull out the win still because he's certainly paid his dues in snubs and near-wins in the past.  Check back later for an update though, because a lot can happen in the month leading up to the Awards.
Best Picture
Black Swan Mike Medavoy, Brian Oliver, & Scott Franklin—Producers
The Fighter David Hoberman, Todd Lieberman, & Mark Wahlberg—Producers
Inception Emma Thomas & Christopher Nolan—Producers
The Kids Are All Right Gary Gilbert, Jeffrey Levy-Hinte, & Celine Rattray—Producers
The King's Speech Iain Canning, Emile Sherman, & Gareth Unwin—Producers
127 Hours Christian Colson, Danny Boyle, & John Smithson—Producers
The Social Network Scott Rudin, Dana Brunetti, Michael De Luca, & Ceán Chaffin—Producers
Toy Story 3 Darla K. Anderson—Producer
True Grit Scott Rudin, Ethan Coen, & Joel Coen—Producers
Winter's Bone Anne Rosellini & Alix Madigan-Yorkin—Producers
Analysis: The second year of the ten-nominee field once again proves just how many films a five-nominee category would have completely ignored this year. This is also another category that, just a few weeks ago, seemed like a virtual lock for The Social Network. While that film is still the favorite, The King's Speech has shown some incredible gains in awards-circuit and industry buzz, as shown by the film's 12 total nominations—the most of any film this year.
Films with an outside chance at pulling off any kind of upset are incredibly limited at this point. Aside from the two leading the pack, Inception was long considered the only real dark horse that could sneak in past both Social and King, but considering the Academy's failure to nominate Nolan and the film in the Directing and Editing fields (every Best Picture winner since 1981 has been at least nominated for the latter), that doesn't seem too likely anymore. If there's any beacon of hope for the genre- and mind-bender to take home the top prize, it comes almost solely from the fact that a huge part of the original reason for the Academy to expand the category to 10 nominees stemmed from the outcry among the industry (and fans) and the drop in ratings when The Dark Knight was completely snubbed two years ago.
The Fighter looks to be the film switching places with Inception as the outside dark horse, but it still doesn't stand much of a chance. This race is really down to only two films. For The Social Network, advantages include being a culturally-relevant character study of Mark Zuckerberg and the most significant evolution in social interaction in over a century. It has also topped more critics' lists than any other film in 2010. However, the key disadvantage may be that the Academy is largely filled with older-aged voters, meaning Social's vibrant and youthful atmosphere could actually hold it back. In most years, that probably still wouldn't matter but in this case, that disadvantage just happens to be part of the biggest advantage for its closest rival, The King's Speech.
King is not only the exact type of film that Academy members love to fall head over heels for (British period dramas have won their fair share of awards in the past), but it is also a crowd-pleaser in every sense of the term. That's not to say that Social Network isn't, but King's protagonist is instantly identifiable and relateable, whereas Zuckerberg is obviously a bit more of an ambiguous figure whose sympathetic side has to be discovered by peeling away multiple layers.
Ultimately, this is another category I may revisit before February 27 if I see any major shift in buzz, but I'm still going to call for The Social Network to pull out the win here. Not only is David Fincher overdue for a Directing award, the unanimous praise the film has received over the last few months is just too staggering to go against right now.
Stay tuned in the weeks ahead, as I may be taking a look at a few more categories as well as revising final predictions before Oscar night.
OSCAR SUNDAY UPDATE (5:22pm) – As promised, I've returned to finalize my predictions (given this article was published nearly a month ago).  The only change comes in Best Picture.  This one could really be closer than most think, but there's been a very clear shift in industry momentum which is prompting me to switch my final prediction for this year's Best Picture to The King's Speech.